Thanks to everyone who saw our note that we are buying again.
The response has been huge.
So huge that we need to slow down in order to get all the books
we have bought over the last 2 weeks on the shelf for you to buy.

We are still buying but selectively.
So, please call if you have more than 3 boxes.
Some sections are overflowing, particularly children's, detective and cooking.

On a similar note if you are looking for
Children's books, detective novels or cook books, we have heaps of new stock.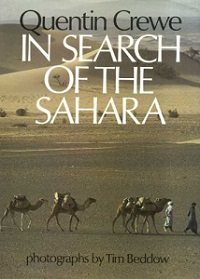 Title:
In Search of the Sahara
The desert song of an intrepid explorer- for nearly two years and 25,000 miles Quentin Crewe and a small band of of stalwart companions roamed the greatest desert in the world - the Sahara - not the most hospitable of places for a man who has been confined to a wheelchair for most of his life!