We are now accepting books for exchange only.
Please ring first if you have more than 3 boxes to bring in.
We are not buying books for cash yet. We will keep you posted.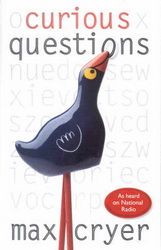 Title:
Curious Questions - As Heard on National Radio
Max Cryer's 15-minute spot on John Campbell's National Radio programme every Sunday has proved a hit with listeners for three years now. This is a collection of almost all the questions asked during the first three years of the show, together with Max's informative and often witty responses....