We are delighted to be open
Our Queen's Birthday hours on Monday 1 June are 12 till 6.
There are Covid-19 protocols in place to keep our staff and customers safe.
Please abide by these and please don't visit us if you are feeling unwell.
Please note, we will NOT be buying or exchanging books under Level 2.
Thank you for your on-line support during Level 3 and for your patience with the delays in delivery.
We look forward to seeing you all in store soon.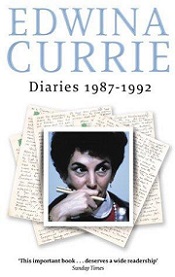 In the late 1980s, when she began keeping a diary, Edwina Currie was the second most prominent woman in British politics - after Margaret Thatcher. Indeed, she was often spoken of as a potential prime minister. Her outspokenness and her lively, media-friendly personality won her a much higher profile than her status as a junior minister would otherwise have commanded. When she was forced to resign from the Government after warning of the danger signs of salmonella infection in eggs, she was already a national figure. These diaries provide an insight into politics at the top, by a writer with an observant eye and a sharp sense of humour, and sparked a media furore on their initial publication due to the author's revelation of her affair with John Major.