We are delighted to be open
Our Queen's Birthday hours on Monday 1 June are 12 till 6.
There are Covid-19 protocols in place to keep our staff and customers safe.
Please abide by these and please don't visit us if you are feeling unwell.
Please note, we will NOT be buying or exchanging books under Level 2.
Thank you for your on-line support during Level 3 and for your patience with the delays in delivery.
We look forward to seeing you all in store soon.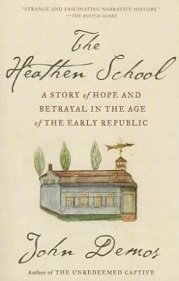 The astonishing story of a unique missionary project and the America it embodied from award-winning historian John Demos. Near the start of the nineteenth century, as the newly established United States looked outward toward the wider world, a group of eminent Protestant ministers formed agrand scheme for gathering the rest of mankind into the redemptive fold of Christianity and civilization. Its core element was a special school for heathen youth drawn from all parts of the earth, including the Pacific Islands, China, India, and, increasingly, the native nations of North America. If all went well, graduates would return to join similar projects in their respective homelands. For some years, the school prospered, indeed became quite famous. However, when two Cherokee students courted and married local women, public resolve and fundamentalideals were put to a severe test. In The Heathen School, John Demos marshals his deep empathy and feel for the textures of history to tell a moving story of families and communities and to probe the very roots of American identity. ...