Thanks to everyone who saw our note that we are buying again.
The response has been huge.
So huge that we need to slow down in order to get all the books
we have bought over the last 2 weeks on the shelf for you to buy.

We are still buying but selectively.
So, please call if you have more than 3 boxes.
Some sections are overflowing, particularly children's, detective and cooking.

On a similar note if you are looking for
Children's books, detective novels or cook books, we have heaps of new stock.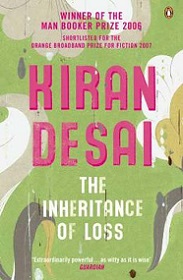 Title:
The Inheritance of Loss
At the foot of Mount Kanchenjunga in the Himalayas, lives an embittered old judge who wants nothing more than to retire in peace. But with the arrival of his orphaned granddaughter, Sai, and his cook's son trying to stay a step ahead of US immigration services, this is far from easy. When a Nepalese insurgency threatens Sai's blossoming romance with her handsome tutor they are forced to consider their colliding interests. The judge must revisit his past, his own journey and his role in this grasping world of conflicting desires - every moment holding out the possibility for hope or betrayal.
Second hand Trade Paperback