Due to Covid 19, Arty Bees is
now closed until further notice.
Including on-line shopping.
We'll see you when things get back to normal.
Stay home and stay safe.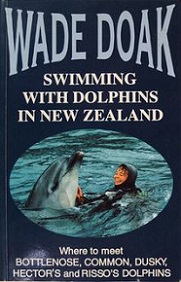 Title:
Swimming with Dolphins in New Zealand - Where to Meet Bottlenose, Common, Dusky, Hector's and Risso's Dolphins
The story behind Project Interlock, a global network set up by Wade and Jan Doak to learn about dolphins in the wild. Wade revelas a fascinating collection of encounters recorded between humans and dolphins in New Zealand. In a tour of dolphin-swim locations around the country, this book provides insights into how to play with dolphins. From north to south, you can meet five different species of dolphins, at different times and locations, according to seasonal movements. You will find that swimming with dolphins can be an unforgettable experience.