We are delighted to be open
Our Queen's Birthday hours on Monday 1 June are 12 till 6.
There are Covid-19 protocols in place to keep our staff and customers safe.
Please abide by these and please don't visit us if you are feeling unwell.
Please note, we will NOT be buying or exchanging books under Level 2.
Thank you for your on-line support during Level 3 and for your patience with the delays in delivery.
We look forward to seeing you all in store soon.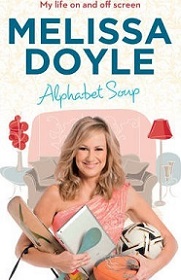 Title:
Alphabet Soup: My life on and off screen
Australia's best loved morning TV presenter, Mel Doyle, invites you inside her home and her life. Now, for the first time, Mel shares what it is like to juggle a high profile TV career with the full time job of being a Mum. In Alphabet Soup, she has collected together some of her favourite memories and anecdotes from the last ten years. Covering everything from her relationship with Kochie to red carpet exclusives, from baking birthday cakes to doing the school run, this is a delicious slice of Mel's life. And, like the rest of us, Mel has highs and lows and a constant battle to balance it all out. Dip in and enjoy some funny, honest and totally relatable anecdotes from life on and off screen!