From Wednesday 8 September we will operating under Level 2 restrictions.  We will be returning to usual opening hours.
Please note that we will require you
* to wear a mask at all times whilst instore
* sign in and sanitise your hands at entry
* maintain a 2m distance between you and other browsing customers
We are here to help you if you need assistance and are happy to organise a delivery for those who are still staying safe at home.
We will not be buying books until we return to Level 1.
Web orders will be processed and delivered via courier and NZ Post.  Store pick ups can be ordered online or organised by phone and email.  We will send you an email when your pick up is ready to be collected. 

To keep up with all the Arty Bees news, why not subscribe to our newsletter at the bottom of the page. 
Our next book club meeting is on Monday 11 October at 6pm.  Our theme for this month is the book that you would recommend to almost anyone.  Check out Facebook or email us to find out more.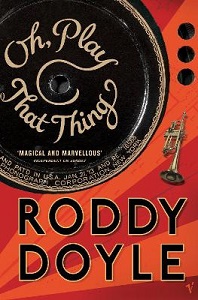 Title:
Oh, Play That Thing
It's 1924, and New York is the centre of the universe. Henry Smart, on the run from Dublin, fails on his feet. He is a handsome man with a sandwich board, behind which he stashes hooch for the speakeasies of the Lower East Side. He catches the attention of the mobsters who run the district and soon there are eyes on his back and men in the shadows. It is time to leave, for another America- Chicago is wild and new, and newest of all is the music. Furious, wild, happy music played by a man with a trumpet and bleeding lips called Louis Armstrong. His music is everywhere, coming from every open door, every phonograph. But Armstrong is a prisoner of his colour; there are places a black man cannot go, things he cannot do. Armstrong needs a man, a white man, and the man he chooses is Henry Smart.