Thanks to everyone who saw our note that we are buying again.
The response has been huge.
So huge that we need to slow down in order to get all the books
we have bought over the last 2 weeks on the shelf for you to buy.

We are still buying but selectively.
So, please call if you have more than 3 boxes.
Some sections are overflowing, particularly children's, detective and cooking.

On a similar note if you are looking for
Children's books, detective novels or cook books, we have heaps of new stock.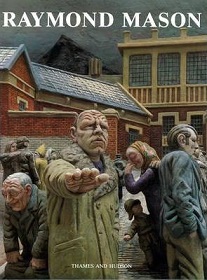 The paintings and sculptures of Raymond Mason never fail to attract a crowd. Often conceived on a large scale, his art - including paintings and drawings, colorful high and low reliefs and sculpture - has a universal appeal. He depicts busy street scenes and familiar landscapes, freezing moments from everyday life and creating dramatic and highly effective tableaux. His figures convey a powerful and very real emotion; their forceful gazes confront and challenge the viewer, demanding attention and response. Experimenting unceasingly with new sculptural forms, Mason explores the limits of realism and figuration itself. In a time without beliefs, his art is inspired by a thought "hungry for humanism, and for more". This book brings together his major works for the first time, illustrated in over 190 superb photographs. Poet and critic Michael Edwards provides a masterly study of the artist and his oeuvre; his friendship with the artist allows him to consider Mason's working life in Britain and France, and to illuminate individual works with new and unusually searching analysis and interpretation. Essential reading for all those concerned with contemporary art, this importantbook is the definitive study of an artist whose work must surely rank among the most challenging and original of this century. Note: Ex-library copy.