We are delighted to be open
We are open normal hours.
There are Covid-19 protocols in place to keep our staff and customers safe.
Please abide by these and please don't visit us if you are feeling unwell.
Please note, we will NOT be buying or exchanging books under Level 2.
Thank you for your on-line support during Level 3 and for your patience with the delays in delivery.
We look forward to seeing you all in store soon.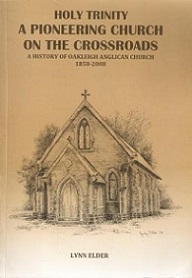 Title:
Holy Trinity, A Pioneering Church on the Crossroads - A History of Oakleigh Anglican Church 1858-2008
Oakleigh Anglican Church, 2008. To read this history of the parish demonstrates clearly how each generation had to face new and different challenges. There was no golden age. People were always human, even vicars, with their strengths and weaknesses. We cannot replicate the past but we can learn from it, we can be grateful, and we can be inspired.