If you are bringing books to sell us, please be aware:
-We are currently not buying for cash.         
-We are doing exchanges and store credit.

We use both NZ Post and PBT to ship our orders.
Here are the christmas sending cut-off dates:
https://www.nzpost.co.nz/business/key-sending-dates-2023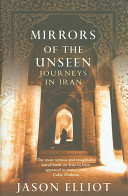 Title:
Mirrors of the Unseen - Journeys in Iran
Some foxing.
This is literary travel writing at its best: brimming with history, anecdote and provocative analysis. The distillation of three years of travel and research, 'Mirrors of the Unseen' is not only an exploration of the immensely rich heritage of Persian culture, but also a unique and timely portrait of contemporary Iran.