We are delighted to be open
Our Queen's Birthday hours on Monday 1 June are 12 till 6.
There are Covid-19 protocols in place to keep our staff and customers safe.
Please abide by these and please don't visit us if you are feeling unwell.
Please note, we will NOT be buying or exchanging books under Level 2.
Thank you for your on-line support during Level 3 and for your patience with the delays in delivery.
We look forward to seeing you all in store soon.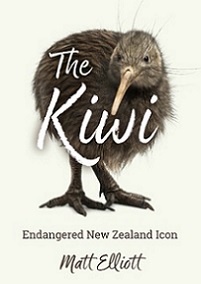 Title:
The Kiwi: Endangered New Zealand Icon
It can't fly; has nostrils at the end of its long beak; cat-like whiskers; the body temperature of a mammal; sharp claws and strong legs to defend itself; lays an egg six times larger than that of a chicken; is ground-dwelling; lives in a burrow; can swim; and is nocturnal. The kiwi is one of the avian world's most unusual creatures. Most New Zealanders have never seen a kiwi in the wild. Yet, this endangered bird is a nation icon, proudly displayed emblem and the nickname by which New Zealanders are known around the world.