We are delighted to be open
We are open normal hours.
There are Covid-19 protocols in place to keep our staff and customers safe.
Please abide by these and please don't visit us if you are feeling unwell.
Please note, we will NOT be buying or exchanging books under Level 2.
Thank you for your on-line support during Level 3 and for your patience with the delays in delivery.
We look forward to seeing you all in store soon.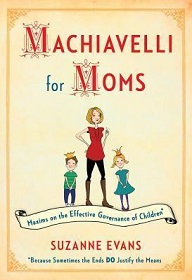 Title:
Machiavelli for Moms - Maxims on the Effective Governance of Children
Newly remarried, with four kids under the age of eight, Suzanne Evans is fed up with tantrums, misbehaving, and general household chaos. Desperate to get the upper hand, she turns to Machiavelli's iconic political treatise, The Prince, and inspiration strikes. "Maybe," she thinks, "I can use his manipulative rules to bring order to my boisterous family." As she tries more and more of Machiavelli's ideas on her family, Evans figures out this secret: You can get more out of your kids, with less fighting, if you figure out how to gently manipulate them to get what you want (and let them think it's their own idea). But when events in her life start to spiral out of control and some of her earlier techniques are no longer working, she has to figure out her own answer to the ultimate Machiavellian question: Is it better to be feared than loved? In Machiavelli for Moms, Evans offers one woman's unorthodox solution to the messy, chaotic, and confusing world of modern motherhood. It's a tale of her own experiment in "power parenting" and a manifesto for other moms willing to act on Machiavelli's famously manipulative advice.