We are delighted to be open
We are open normal hours.
There are Covid-19 protocols in place to keep our staff and customers safe.
Please abide by these and please don't visit us if you are feeling unwell.
Please note, we will NOT be buying or exchanging books under Level 2.
Thank you for your on-line support during Level 3 and for your patience with the delays in delivery.
We look forward to seeing you all in store soon.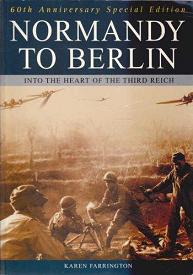 Title:
Normandy to Berlin - Into the Heart of the Third Reich - 60th Anniversary Special Edition
Tells the remarkable story of the Allied liberation of the occupied European countries of France, Belgium and Holland and the final push through to Berlin, the beating heart of the Third Reich. The campaign to liberate Europe, and the long road from the beaches of Normandy to Berlin marks on of the greatest military offensives in history...