Thanks to everyone who saw our note that we are buying again.
The response has been huge.
So huge that we need to slow down in order to get all the books
we have bought over the last 2 weeks on the shelf for you to buy.

We are still buying but selectively.
So, please call if you have more than 3 boxes.
Some sections are overflowing, particularly children's, detective and cooking.

On a similar note if you are looking for
Children's books, detective novels or cook books, we have heaps of new stock.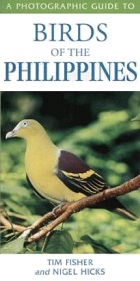 Title:
A Photographic Guide to Birds of the Philippines
This text is a compact, easy-to-use bird identification guide, suitable for any birdwatcher visiting the Philippines. The book features descriptions of 216 species, thumbnail silhouettes for ease of use, up-to-date tips and information on bird biology and behaviour.