Due to Covid 19, Arty Bees is
now closed until further notice.
Including on-line shopping.
We'll see you when things get back to normal.
Stay home and stay safe.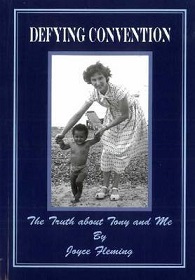 Title:
Defying Convention - The Truth About Tony and Me
Published by Rockhaven, Christchurch, 2011, 255 pages. Surely it is normal for the female of the species to become pregnant and to give birth. But in 1950s Britain it could be an impossible predicament. My father, an elder of the Prebyterian church, went into denial. What else could he do? This is the story of Joyce Fleming, an unmarried mother and Tony, her son to a Nigerian student.