We are now accepting books for exchange only.
Please ring first if you have more than 3 boxes to bring in.
We are not buying books for cash yet. We will keep you posted.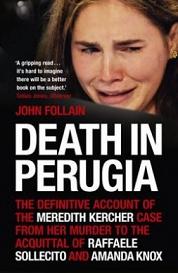 Title:
Death in Perugia - The Definitive Account of the Meredith Kercher Case ...
Shortly after 12.30pm on 2 November 2007, Italian police were called to the Perugia home of 21 year-old British student Meredith Kercher. They found her body on the floor under a beige quilt. Her throat had been cut. Four days later, the prosecutor jailed Meredith's flatmate, American student Amanda Knox, and Raffaele Sollecito, her Italian boyfriend. He also jailed Rudy Guede, an Ivory Coast drifter. Four years later Knox and Sollecito were acquitted amid chaotic scenes in front of the world's media...