We are open on the Wellington Anniversary from 12pm until 6pm.
Arty Bees is now operating under Orange restrictions.
You can order via our website.  All web orders are delivered via courier and NZ Post. 
Store pick ups can be ordered online or organised by phone and email.
To keep up with all the Arty Bees news subscribe to our newsletter at the bottom of the page.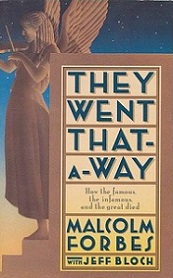 Title:
They Went That-a-Way: How the famous, the infamous, and the great died
From Malcolm Forbes, chairman and editor-in-chief of Forbes magazine, What a Way to Go is a collection of 150 short takes on the demises of the famous and infamous over the past 3,000 years. The author is America's most famous billionaire.