We have stopped buying, we are accepting lots for exchange and credit.
Our Winter operating hours are
Monday to Thursday 9am - 6pm
Friday 9am -7pm
Saturday 10am - 7pm
Sunday 11am - 6pm
Arty Bees is now operating under Orange restrictions.
You can order via our website.  All web orders are delivered via PBT Couriers or NZ Post. 
Store pick ups can be ordered online or organised by phone and email.
To keep up with all the Arty Bees news subscribe to our newsletter at the bottom of the page.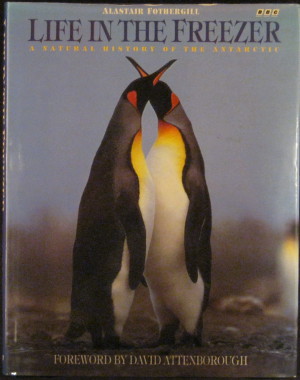 Title:
Life in the Freezer: A Natural History of the Antarctic
Published to accompany a BBC1 television series presented by David Attenborough, this is an illustrated natural history of the Antarctic. Season by season, it traces the lives of the fish, birds, mammals and plants of an extraordinary continent.
Spring finds whales, seals and birds feeding in the richest ocean in the world, and summer sees a frenzy of activity as the Antarctic inhabitants race to breed before the onset of winter. In autumn their young face many hazards - leopard seals snatch fledgling penguins from their parents and killer whales overturn ice-floes to attack the seals. In winter, when the frozen sea literally doubles the size of their home, only the remarkable emperor penguins and a few brave humans remain.
Meanwhile, below the ice, underwater cameras capture pictures of abundant life - giant spiders, soft corals and countless varieties of fish.
Life in the Freezer: A Natural History of the Antarctic.
Alastair Fothergill.
with photographs by Ben Osbourne.
and foreword by David Attenborough.
BBC Books.
London.
1994 reprint.
Hardcover.
Blue cloth boards with silver titles on the spine.
224 pages.
Inscription in blue ink on the front end-paper.
Good second-hand condition.
Binding tight.
Pages clean.
Security tag affixed to the back paste-down end-paper.
Dust jacket slightly creased on the top edge, front and back, otherwise intact.