We are delighted to be open
Our Queen's Birthday hours on Monday 1 June are 12 till 6.
There are Covid-19 protocols in place to keep our staff and customers safe.
Please abide by these and please don't visit us if you are feeling unwell.
Please note, we will NOT be buying or exchanging books under Level 2.
Thank you for your on-line support during Level 3 and for your patience with the delays in delivery.
We look forward to seeing you all in store soon.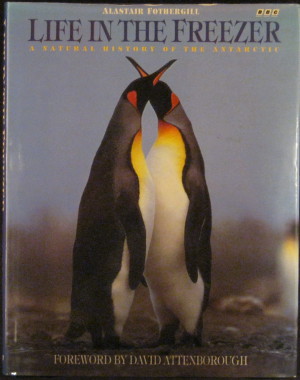 Title:
Life in the Freezer: A Natural History of the Antarctic
Published to accompany a BBC1 television series presented by David Attenborough, this is an illustrated natural history of the Antarctic. Season by season, it traces the lives of the fish, birds, mammals and plants of an extraordinary continent. Spring finds whales, seals and birds feeding in the richest ocean in the world, and summer sees a frenzy of activity as the Antarctic inhabitants race to breed before the onset of winter. In autumn their young face many hazards - leopard seals snatch fledgling penguins from their parents and killer whales overturn ice-floes to attack the seals. In winter, when the frozen sea literally doubles the size of their home, only the remarkable emperor penguins and a few brave humans remain. Meanwhile, below the ice, underwater cameras capture pictures of abundant life - giant spiders, soft corals and countless varieties of fish. Life in the Freezer: A Natural History of the Antarctic. Alastair Fothergill. with photographs by Ben Osbourne. and foreword by David Attenborough. BBC Books. London. 1994 reprint. Hardcover. Blue cloth boards with silver titles on the spine. 224 pages. Inscription in blue ink on the front end-paper. Good second-hand condition. Binding tight. Pages clean. Security tag affixed to the back paste-down end-paper. Dust jacket slightly creased on the top edge, front and back, otherwise intact.