Update: Selling books to Arty Bees.
Many of you have been selling books to us, which is great, but we will be pausing our buying in December.
We are currently being very "choosy" when buying books.
Please call (04)3845339 if you have more than 3 boxes of books.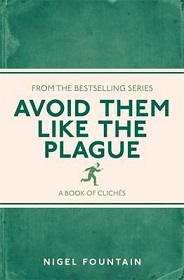 Title:
Avoid Them Like the Plague: A Book of Cliches
Michael O'Mara Books, 2015. Good second-hand condition. Cliches have become such a familiar part of the English language and people's everyday speech that many are now trite, meaningless and often quite irritating. This book looks at cliches in their many forms - once useful but overworked catch phrases ('move the goal posts'), worn-out sayings ('all hands on deck'), pointless phrases used to conceal a weak argument ('to be perfectly honest'), technical terms used out of context ('collateral damage'), and many others. It shows where they came from and, with examples from people who ought to know better, why they should be avoided. Entertaining and informative, this collection of cliches really is the best thing since sliced bread.