We have stopped buying, we are accepting lots for exchange and credit.
Our Winter operating hours are
Monday to Thursday 9am - 6pm
Friday 9am -7pm
Saturday 10am - 7pm
Sunday 11am - 6pm
Arty Bees is now operating under Orange restrictions.
You can order via our website.  All web orders are delivered via PBT Couriers or NZ Post. 
Store pick ups can be ordered online or organised by phone and email.
To keep up with all the Arty Bees news subscribe to our newsletter at the bottom of the page.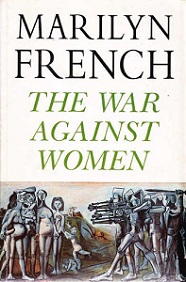 Title:
The War Against Women
Bestselling author and feminist scholar Marilyn French has written a shocking and fascinating analysis of the history of women's political, cultural, physical, and economic repression that is as controversial as it is utterly convincing. In this stunning work of resarch, Ms. French creates a devastating portrait of today's male-dominated global society, with its underlying aim of destroying, subjugating, or mutilating women. Here is a devastating indictment of our values and an important step toward an urgent public discussion of human morality.