We have stopped buying, we are accepting lots for exchange and credit.
Our Winter operating hours are
Monday to Thursday 9am - 6pm
Friday 9am -7pm
Saturday 10am - 7pm
Sunday 11am - 6pm
Arty Bees is now operating under Orange restrictions.
You can order via our website.  All web orders are delivered via PBT Couriers or NZ Post. 
Store pick ups can be ordered online or organised by phone and email.
To keep up with all the Arty Bees news subscribe to our newsletter at the bottom of the page.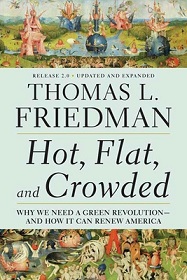 Title:
Hot, Flat, and Crowded - Why We Need a Green Revolution - And How It Can Renew America - Updated and Expanded
In this brilliant, essential book, Pulitzer Prize-winning author Thomas L. Friedman speaks to America's urgent need for national renewal and explains how a green revolution can bring about both a sustainable environment and a sustainable America. Friedman explains how global warming, rapidly growing populations, and the expansion of the world's middle class through globalization have produced a dangerously unstable planet - one that is "hot, flat, and crowded." In this Release 2.0 edition, he also shows how the very habits that led us to ravage the natural world led to the meltdown of the financial markets and the Great Recession. The challenge of a sustainable way of life presents the United States with an opportunity not only to rebuild its economy, but to lead the world in radically innovating toward cleaner energy. And it could inspire Americans to something we haven't seen in a long time - nation-building in America - by summoning the intelligence, creativity, and concern for the common good that are our greatest national resources. Hot, Flat, and Crowded is classic Thomas L. Friedman: fearless, incisive, forward-looking, and rich in surprising common sense about the challenge - and the promise - of the future...