Thanks to everyone who saw our note that we are buying again.
The response has been huge.
So huge that we need to slow down in order to get all the books
we have bought over the last 2 weeks on the shelf for you to buy.

We are still buying but selectively.
So, please call if you have more than 3 boxes.
Some sections are overflowing, particularly children's, detective and cooking.

On a similar note if you are looking for
Children's books, detective novels or cook books, we have heaps of new stock.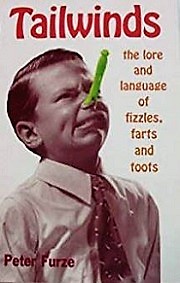 Title:
Tailwinds - The Lore and Language of Fizzles, Farts and Toots
'Tailwinds' takes a light-hearted look at the history of farting which has been celebrated in the writings of Chaucer, Mark Twain and JP Donleavy and on the stage by Le Petomane with his unique farting act. Author Peter Furze reveals all about the highly amusing world of flatulence and finally clears the air about a subject which once caused people to wrinkle their noses and leave the room.