We are delighted to be open
Our Queen's Birthday hours on Monday 1 June are 12 till 6.
There are Covid-19 protocols in place to keep our staff and customers safe.
Please abide by these and please don't visit us if you are feeling unwell.
Please note, we will NOT be buying or exchanging books under Level 2.
Thank you for your on-line support during Level 3 and for your patience with the delays in delivery.
We look forward to seeing you all in store soon.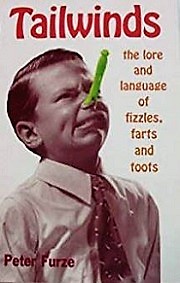 Title:
Tailwinds - The Lore and Language of Fizzles, Farts and Toots
'Tailwinds' takes a light-hearted look at the history of farting which has been celebrated in the writings of Chaucer, Mark Twain and JP Donleavy and on the stage by Le Petomane with his unique farting act. Author Peter Furze reveals all about the highly amusing world of flatulence and finally clears the air about a subject which once caused people to wrinkle their noses and leave the room.