We are buying books again.
Please ring first if you have more than 3 boxes to bring in.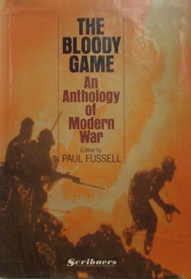 Title:
The Bloody Game: An Anthology of Modern War
Containing a collection of poems, simple letters home and outstanding fiction, this book presents the voices of the 20th century's major conflicts. Moments on the battlefields are captured in the words of those involved, including Kipling, Wilfred Owen, Norman Mailer - and the humble squaddies.