From Wednesday 8 September we will operating under Level 2 restrictions.  We will be returning to usual opening hours.
Please note that we will require you
* to wear a mask at all times whilst instore
* sign in and sanitise your hands at entry
* maintain a 2m distance between you and other browsing customers
We are here to help you if you need assistance and are happy to organise a delivery for those who are still staying safe at home.
We will not be buying books until we return to Level 1.
Web orders will be processed and delivered via courier and NZ Post.  Store pick ups can be ordered online or organised by phone and email.  We will send you an email when your pick up is ready to be collected. 

To keep up with all the Arty Bees news, why not subscribe to our newsletter at the bottom of the page. 
Our next book club meeting is on Monday 11 October at 6pm.  Our theme for this month is the book that you would recommend to almost anyone.  Check out Facebook or email us to find out more.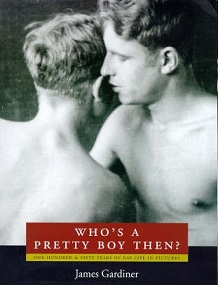 Title:
Who's a Pretty Boy Then? One Hundred and Fifty Years of Gay Life in Pictures
Some fading to spine, including front and back cover, otherwise good secondhand condition. Previous owner's name on front endpaper.
More than 600 pictures, portraits and pornography, postcards and cuttings and snapshots from private albums go to make up one man's personal and highly idiosyncratic view of gay history since the invention of the camera. Gay people, their friends, lovers, idols and enemies in all their glory, divas, bodybuilders and drag queens, heroes and villains, from Marie Lloyd to Madonna, Sandow to Schwarzenegger, Boulton to Savage, Labouchere to Mary Whitehouse. And alongside the famous and infamous, are the images of "ordinary" gay men taken at moments that only friends and lovers would bother to record.