Monday is Labour Day.
Our hours are 12-6.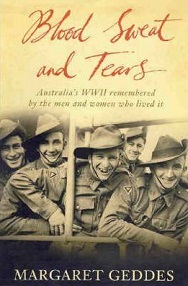 Title:
Blood, Sweat and Tears - Australia's WWII Remembered by the Men and Women Who Lived it
This book is a compilation of Margaret Geddes' interviews with ordinary Australians who did extraordinary things during World War II. From the campaigns in Europe and Africa, the prison camps of South-East Asia and the notorious Burma Railway, to those who kept the home fires burning, this is a remarkable portrait of Australians at war.