Thanks to everyone who saw our note that we are buying again.
The response has been huge.
So huge that we need to slow down in order to get all the books
we have bought over the last 2 weeks on the shelf for you to buy.

We are still buying but selectively.
So, please call if you have more than 3 boxes.
Some sections are overflowing, particularly children's, detective and cooking.

On a similar note if you are looking for
Children's books, detective novels or cook books, we have heaps of new stock.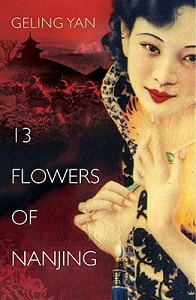 Title:
The Flowers of War - The Book Behind Zhang Yimou's Epic Film
This moving short novel is based on true events that took place during the Nanjing Massacre in 1937 when the Japanese invaded the Chinese city, slaughtering not only soldiers but raping and murdering the civilian population as well. It tells the story of an American missionary who, for a few terrifying days, finds himself sheltering a group of schoolgirls, prostitutes and wounded Chinese soldiers in the compound of his church. American priest Father Engelmann is one of the small group of Westerners who have remained in Nanjing, despite the approach of the Japanese. America is not yet in the war and so his church compound is supposedly neutral territory. However, his confidence in his ability to look after the Chinese schoolgirls left in his care is shaken when thirteen prostitutes from the floating brothel on the nearby Yangtze River climb over the compound wall and demand to be hidden. The situation becomes even more intense when some wounded Chinese soldiers appear. Meanwhile Engelmann is becoming increasingly aware of the barbaric behaviour of the Japanese outside the compound walls. It is only a matter of time before they knock on the door and find the people he is protecting...