We are delighted to be open
Our Queen's Birthday hours on Monday 1 June are 12 till 6.
There are Covid-19 protocols in place to keep our staff and customers safe.
Please abide by these and please don't visit us if you are feeling unwell.
Please note, we will NOT be buying or exchanging books under Level 2.
Thank you for your on-line support during Level 3 and for your patience with the delays in delivery.
We look forward to seeing you all in store soon.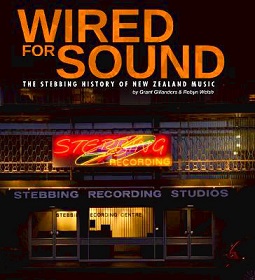 Title:
Wired for Sound: The Stebbing History of New Zealand Music
Discover the fascinating story behind Eldred Stebbing and the Stebbing recording legacy. From pioneering violins and 78 records, to the singers, songwriters, engineers and producers who have pooled their talents through the decades to make musical magic in the studios. Step inside the Galaxie nightclub of the 1960s, track the evolution of the Zodiac record label and witness the Stebbing family's relentless pursuit of excellence in the face of industry politics, changing technologies and financial risk. This is a story that embodies New Zealand's entrepreneurial spirit; a story of how determination, resourcefulness and creativity combined to create an enduring Kiwi success story.