We have stopped buying, we are accepting lots for exchange and credit.
Our Winter operating hours are
Monday to Thursday 9am - 6pm
Friday 9am -7pm
Saturday 10am - 7pm
Sunday 11am - 6pm
Arty Bees is now operating under Orange restrictions.
You can order via our website.  All web orders are delivered via PBT Couriers or NZ Post. 
Store pick ups can be ordered online or organised by phone and email.
To keep up with all the Arty Bees news subscribe to our newsletter at the bottom of the page.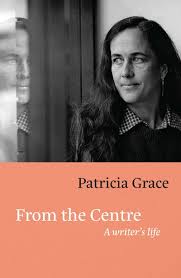 Title:
From the Centre - A Writer's Life
With photographs and quotes from her many, hugely loved books, Patricia Grace begins with her grandparents and parents and takes us through her childhood, her education, marriage and up to the present day in this touching and self-deprecating story of her life, the life of a writer, of a Maori woman and of a teacher. It expresses the love for family and for ancestral land; shows the prejudices she had to face and that made her stronger; and tracks her career as a writer.