We have stopped buying, we are accepting lots for exchange and credit.
Our Winter operating hours are
Monday to Thursday 9am - 6pm
Friday 9am -7pm
Saturday 10am - 7pm
Sunday 11am - 6pm
Arty Bees is now operating under Orange restrictions.
You can order via our website.  All web orders are delivered via PBT Couriers or NZ Post. 
Store pick ups can be ordered online or organised by phone and email.
To keep up with all the Arty Bees news subscribe to our newsletter at the bottom of the page.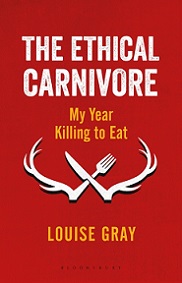 Title:
The Ethical Carnivore: My Year Killing to Eat
We should all know exactly where our meat comes from. But what if you took this modern-day maxim to its logical conclusion and only ate animals you killed yourself?
Louise Gray decides to be an ethical carnivore and learn to stalk, shoot and fish. Starting small, Louise shucks oysters and catches a trout. As she begins to reconnect with nature, she befriends countrymen and women who can teach her to shoot pigeons, rabbits and red deer.
Louise begins to look into how meat is processed, including the beef in our burgers, cheap chicken, supermarket bacon and farmed fish. She investigates halal slaughter and visits abattoirs to ask whether new technology can make eating meat more humane.
Delving into alternative food cultures, Louise finds herself sourcing roadkill and cooking a squirrel stir-fry, and she explores eating other sources of protein like in vitro meat, insects and plant-based options.
With the global demand for meat growing, Louise argues that eating less meat should be an essential part of fighting climate change for all of us. Her writing on nature, food and the environment is full of humour, while never shying from the hard facts. Louise gets to the heart of modern anxieties about where our meat comes from, asking an important question for our time – is it possible to be an ethical carnivore?