UPDATE - Selling books to Arty Bees.
We are accepting books for exchange at the moment.
We may buy selectively for cash, but please contact us first.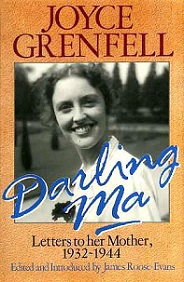 Title:
Darling Ma: Letters to Her Mother, 1932-44
"Darling Ma" is how Joyce Grenfell began every one of these entertaining, gossipy, revealing letters to her mother in the USA. They cover Joyce's rise from radio critic on "The Observer" to the popular star of stage and screen - and are imbued with her inimitable, enthusiastic personality. Joyce Grenfell wrote two volumes of autobiography, "Joyce Grenfell Requests the Pleasure" and "In Pleasant Places" James Roose-Evans is best known for his work in the theatre, including the one woman revue "Re: Joyce" which starred Maureen Lipman as Grenfell.