UPDATE - Selling books to Arty Bees.
We are accepting books for exchange at the moment.
We may buy selectively for cash, but please contact us first.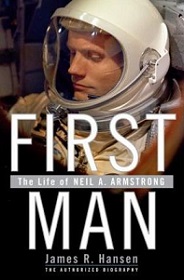 Title:
First Man - The Life of Neil Armstrong
On July 20, 1969, the world stood still to watch thirty-eight-year-old American astronaut Neil A. Armstrong become the first person ever to step on the surface of another heavenly body. Perhaps no words in human history became better known than those few he uttered at that historic moment. Upon his return to Earth, Armstrong was honored and celebrated for his monumental achievement. He was also -- as James R. Hansen reveals in this fascinating and important authorized biography -- misunderstood. Armstrong's accomplishments as an engineer, a test pilot, and an astronaut have long been a matter of record, but Hansen's unprecedented access to private documents and unpublished sources and his interviews with more than 125 subjects (including more than fifty hours with Armstrong himself) yield this first in-depth analysis of an elusive American celebrity still renowned the world over.