We are delighted to be open
We are open normal hours.
There are Covid-19 protocols in place to keep our staff and customers safe.
Please abide by these and please don't visit us if you are feeling unwell.
Please note, we will NOT be buying or exchanging books under Level 2.
Thank you for your on-line support during Level 3 and for your patience with the delays in delivery.
We look forward to seeing you all in store soon.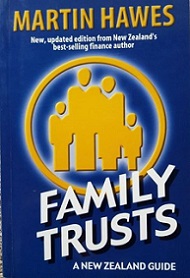 Title:
Family Trusts: A New Zealand Guide
A family trust offers you the benefits, use and control of your assets and doesn't penalise you for owning them. Martin Hawes's definitive guide has been completely revised and updated, and brings together everything you need to know about family trusts. Clear and straight-forward, and aimed at the layperson, Family Trusts includes up-to-date advice, with real-life examples and answers to commonly asked questions throughout. This is an essential book for anyone curious about family trusts who is self-employed, a business owner, a wage and salary earner, or retired. 'In my experience, 75 per cent of family trusts in New Zealand are so badly arranged or managed that they could easily be attacked and overturned in court ... managing a trust badly is a bit like insuring the contents of your house but then going on holiday and leaving the doors wide open.' This, the sixth revised edition, includes a new chapter on effective management of family trusts. Many people manage their trusts as if the assets in the trust were still their own, and keep poor records of the trust's transactions. Inadequate management can lead to accusations that the trust is a sham. Drawing on his vast experience, Martin Hawes explains how to keep correct records and minutes, and to manage your trust so that it is resilient in the face of a challenge.