UPDATE - Selling books to Arty Bees.
We are accepting books for exchange at the moment.
We may buy selectively for cash, but please contact us first.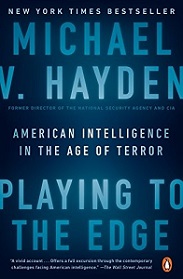 Title:
Playing to the Edge - American Intelligence in the Age of Terror
For ten years, as the director of the CIA and the NSA, General Michael Hayden participated in every major event in American national security, the fallout and consequences of which are still unfolding today. His perspective is truly unmatched, and his goals in writing this book are simple and unwavering: no apologies. No excuses. Just what happened, and why. As honest and candid as it is revelatory, Playing to the Edge is an essential history of our turbulent times that sheds new light on events and decisions we think we know well....