UPDATE - Selling books to Arty Bees.
We are accepting books for exchange at the moment.
We may buy selectively for cash, but please contact us first.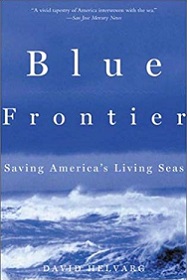 Title:
Blue Frontier - Saviong America's Living Seas
A fascinating account of America's oceans and ocean politics, Blue Frontier explores the impact of history, commerce, and policy on marine life - and by extension all life on earth. From the legacy of navy-funded research and development since World War II to the current newsworthy topics such as beach closures, collapsing fish stocks, killer algae, hurricanes, and oil spills, Blue Frontier takes readers on an adventure-filled tour of America's last great wilderness range. Despite today's wide-open development along our coasts and in offshore waters, Blue Frontier argues that sensible policies can still halt the onslaught of industrial destruction. An impassioned call for a new approach to ocean stewardship, Blue Frontier is essential reading for anyone interested in saving our maritime culture and heritage....