We are delighted to be open
Our Queen's Birthday hours on Monday 1 June are 12 till 6.
There are Covid-19 protocols in place to keep our staff and customers safe.
Please abide by these and please don't visit us if you are feeling unwell.
Please note, we will NOT be buying or exchanging books under Level 2.
Thank you for your on-line support during Level 3 and for your patience with the delays in delivery.
We look forward to seeing you all in store soon.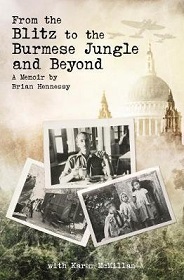 Title:
From the Blitz to the Burmese Jungle and Beyond
One man's memoir of World War II, which took him from the Blitz to the jungles of Burma, to the devastation of Hiroshima. 'I consider myself lucky to have survived the global carnage still myself - a reluctant soldier who had to go to war, who only ever wanted peace for everyone.' - Brian Hennessy Brian immigrated to New Zealand after the war and lived there until his death aged ninety-two, but he never forgot his extraordinary war adventures. Born in Germany to English parents, he came from a family that served in the army. He was seventeen years old and living in London when war broke out, and he experienced the Blitz first-hand. Brian joined the British Army and became the youngest armament artificer. What followed was a true adventure story, as Brian journeyed via South Africa to India and the remote jungles of Burma. Danger was always present, and his narrative is sometimes humorous, at other times poignant. At the end of the war, he went to Japan and saw first-hand the devastation at Hiroshima. This is his story, a sweeping journey through the landscape of war and far more fascinating and exciting than any fiction.