From Wednesday 8 September we will operating under Level 2 restrictions.  We will be returning to usual opening hours.
Please note that we will require you
* to wear a mask at all times whilst instore
* sign in and sanitise your hands at entry
* maintain a 2m distance between you and other browsing customers
We are here to help you if you need assistance and are happy to organise a delivery for those who are still staying safe at home.
We will not be buying books until we return to Level 1.
Web orders will be processed and delivered via courier and NZ Post.  Store pick ups can be ordered online or organised by phone and email.  We will send you an email when your pick up is ready to be collected. 

To keep up with all the Arty Bees news, why not subscribe to our newsletter at the bottom of the page. 
Our next book club meeting is on Monday 11 October at 6pm.  Our theme for this month is the book that you would recommend to almost anyone.  Check out Facebook or email us to find out more.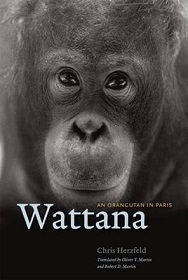 Title:
Wattana - An Orangutan in Paris
She likes tea, sews, draws on papers and is a self-taught master of tying and untying knots. But she is not a crafty woman of the DIY set: she is Wattana, an orangutan who lives in the Jardin des Plantes Zoo in Paris. And it is in Paris where Chris Herzfeld first encounters and becomes impressed by Wattana and her exceptional abilities with knots. In Wattana: An Orangutan in Paris Herzfeld tells not only Wattana's fascinating story, but also the story of orangutans and other primates--including bonobos, chimpanzees, and gorillas--in captivity.
Offering a uniquely intimate look at the daily lives of captive great apes, Herzfeld uses Wattana's life to trace the history of orangutans from their first arrival in Europe in 1776 to the inhabitants of the Zoo of Paris and other zoos today. She provides a close look at the habits, technical know-how, and skills of Wattana, who, remarkably, uses strings, paper rolls, rope, and even pieces of wood to make things. And she thoughtfully explores how apes individually--and often with ingenuity--come to terms with and adapt to their captive environments and caretakers. Through these stories, Wattana sympathetically reveals the extraordinary psychology and distinctive personalities of great apes as well as the interconnections between animal and human lives, especially in zoos.
Scientists predict that orangutans will disappear from the wild by 2030, and captive animals like Wattana may, as a result, provide our best chance to understand and appreciate their astonishing intelligence and abilities. Wattana, the accomplished maker of knots, is the hero of this poignant book, which will enthrall anyone curious about the lives of our primate cousins.