We are delighted to be open
Our Queen's Birthday hours on Monday 1 June are 12 till 6.
There are Covid-19 protocols in place to keep our staff and customers safe.
Please abide by these and please don't visit us if you are feeling unwell.
Please note, we will NOT be buying or exchanging books under Level 2.
Thank you for your on-line support during Level 3 and for your patience with the delays in delivery.
We look forward to seeing you all in store soon.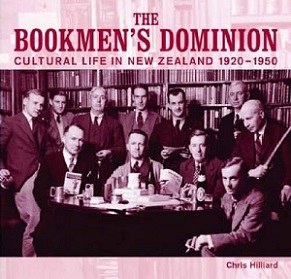 Title:
The Bookmen's Dominion: Cultural Life in New Zealand 1920-1950
Auckland University Press, 2006. A portrait of New Zealand's intellectual life between the two world wars, this literary history pieces together the networks formed by journalists, librarians, independent scholars, and academics, examines how they worked with or against one another, and discusses the links forged with their Australian counterparts. It also explores the role of libraries, newspapers, and magazines as cultural institutions at a time when the universities and the state played a minor part in colonial cultural life.