Our next book club will be meeting on Monday 12 July and we will be discussing books with a seafaring theme.
Call or email us to find out more about the book club.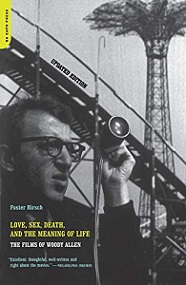 Title:
Love, Sex, Death, and the Meaning of Life - The Films of Woody Allen
Woody Allen has carved out a unique place for himself in American movies, becoming our national auteur with the creation of such classic films as Sleeper, Annie Hall, and Hannah and Her Sisters, as well as the most prolific director in the country. He has created a singular world with each movie he has released since his first in 1969. Foster Hirsch analyzes and celebrates that world in this study of the themes, visual style, and acting in each of Allen's films. With the addition of a new introduction and a chapter covering the eleven movies Allen has made in the last decade from Alice to Small Time Crooks - this up-to-date analysis of the director's entire body of work is a vital book for Allen fans and foes alike.