We are buying books again.
Please ring first if you have more than 3 boxes to bring in.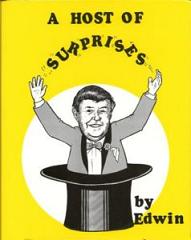 Edwin built the great Supreme Magic empire from one-room beginnings in the 1950s to his retirement in 1986. In business Edwin was a go-getter but beneath the Goliath exterior lay a friendly and energetic character, the perfect host, with a true love of the magic world and its inhabitants. As well as publishing the story of his eventful life in two large volumes in 1989, he also began presenting lectures. Here is his latest volume of original magic...