We are buying books again.
Please ring first if you have more than 3 boxes to bring in.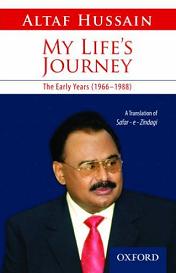 Based on a long interview of Altaf Husain, the present day Chief of the now Muttahida Qaumi Movement (previously Mohajir Qaumi Movement), this book is an account of the protagonist's life and political career up to the year 1988. It provides illuminating insights into the rise of a powerful political party and its charismatic leader. Husain's early encounters with prejudice against a straggling group of immigrants from India known as 'Mohajirs', his disillusionment with religious parties and their claim of impartiality towards all fellow Muslims soon led him to create a robust and coherent political party from the amorphous group of people who were given the name of 'Mohajir'. Not only is this book invaluable as an early blueprint of the MQM's future development and concerns, it is also an impressive record of how an individual, with the help of a small group of friends, generated political consciousness among people who felt powerless in their adopted country, and helped them to stand up confidently for their rights-and later, for the rights of other unprivileged people.