We are buying books again.
Please ring first if you have more than 3 boxes to bring in.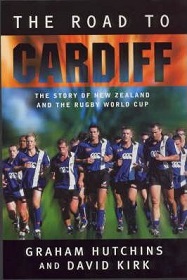 Title:
The Road to Cardiff - The Story of New Zealand and the Rugby World Cup
Published by Harper Sports, Auckland, 1999, 174 pages. The Road to Cardiff examines the performance of the All Blacks in the previous World Cup competitions, from the glory of 1987, through the disappoinment of 1991, to the despair of 1995. David Kirk then provides astute comment on the Super 12 season, the challenges facing the 1999 All Black squad and their chances of success in Cardiff.
Second hand Trade Paperback