Thanks to everyone who saw our note that we are buying again.
The response has been huge.
So huge that we need to slow down in order to get all the books
we have bought over the last 2 weeks on the shelf for you to buy.

We are still buying but selectively.
So, please call if you have more than 3 boxes.
Some sections are overflowing, particularly children's, detective and cooking.

On a similar note if you are looking for
Children's books, detective novels or cook books, we have heaps of new stock.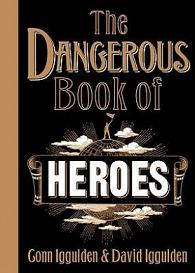 Title:
The Dangerous Book of Heroes
The men and women in this book were in some cases possessed of superb self-confidence and personal belief. Others doubted their every action to the point where they could hardly act at all. For some, their heroism is contained in a single moment, while others seem to have lived a life that stands out like a thread of gold. Some names have been passed from generation to generation - the Duke of Welligton, Walter Ralegh, William Bligh, Douglas Bader. There are others you may not know, quiet heroes such as the Women of the S.O.E., the men of Bristol, the Few. Yet each of their lives illustrates how far wild courage, single-minded obsession and self-belief can take you. There are all our stories. Who we are today and who we will be depends on these golden threads; on those who didn't turn aside when it really, really mattered...