We are delighted to be open
Our Queen's Birthday hours on Monday 1 June are 12 till 6.
There are Covid-19 protocols in place to keep our staff and customers safe.
Please abide by these and please don't visit us if you are feeling unwell.
Please note, we will NOT be buying or exchanging books under Level 2.
Thank you for your on-line support during Level 3 and for your patience with the delays in delivery.
We look forward to seeing you all in store soon.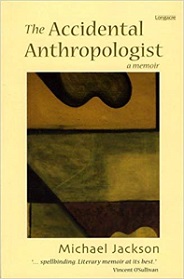 Title:
The Accidental Anthropologist: A Memoir
Journeys through the Congo, Sierra Leone and Outback Australia in an inventive memoir by a Commonwealth Poetry Prize-winning ethnographer. The Accidental Anthropologist is a fascinating, impeccably written memoir, or more accurately, a series of fragments. Compelling and absorbing as well as intense and insightful, Jackson writes a far from classically autobiographical text. There is nothing predictable about the mode or incidents he has chosen to write about: this is literary memoir at its best and most inventive. Jackson has a fascination with the concept of personal metamorphosis, the idea that a life can be dismantled and reassembled in a different country and set of relationships. And throughout the story the author makes a pretty good fist of living the theory. Jackson's experiences begin with his earnest portrayal of young adulthood in Wellington where he associates on the fringes with many of the literary figures of the early 1960s: Bob Lowry, Fleur Adcock, James K. Baxter, R.A.K. Mason and the artist McCahon. Jackson finds himself homeless in London where he's drawn to help the poor and eventually finds his way to Cambridge, where he stumbles upon anthropology. His subsequent ethnographic fieldwork takes him to the Congo, Sierra Leone, and outback Australia. Jackson makes it clear that our lives are barely our own, they belong as much to the people, the landscapes, the influences of thought and ideology that absorb us. He excells at the intensely personal and captivates with this masterful work. The Accidental Anthropologist is a challenging and magnificent memoir; much of it is spellbinding, astute and disquieting.
Second hand Trade Paperback