Thanks to everyone who saw our note that we are buying again.
The response has been huge.
So huge that we need to slow down in order to get all the books
we have bought over the last 2 weeks on the shelf for you to buy.

We are still buying but selectively.
So, please call if you have more than 3 boxes.
Some sections are overflowing, particularly children's, detective and cooking.

On a similar note if you are looking for
Children's books, detective novels or cook books, we have heaps of new stock.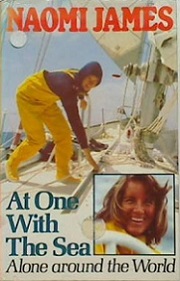 Title:
At One with The Sea - Alone Around the World
On 8th June 1978, the world heard the astonishing news that 28-year-old Naomi James had become the first woman to sail single-handed round the globe via Cape Horn - and in the fastest time ever. The daughter of a New Zealand sheep farmer, newly married and with only two years sailing experience behind her, Naomi had never handled a boat by herself before - yet, incredibly, she set a new round-the world record and made sailing history...