We have stopped buying, we are accepting lots for exchange and credit.
Our Winter operating hours are
Monday to Thursday 9am - 6pm
Friday 9am -7pm
Saturday 10am - 7pm
Sunday 11am - 6pm
Arty Bees is now operating under Orange restrictions.
You can order via our website.  All web orders are delivered via PBT Couriers or NZ Post. 
Store pick ups can be ordered online or organised by phone and email.
To keep up with all the Arty Bees news subscribe to our newsletter at the bottom of the page.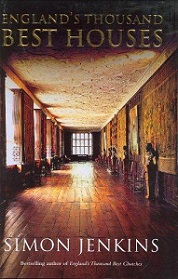 Title:
England's Thousand Best Houses
'A hymn to good architecture, an ode to authentic domestic interiors ...buy, beg, borrow or steal a copy to keep in the car. No other book (apart from his "1,000 Churches") will prompt so many joyous detours' -Christopher Hudson, "Daily Mail". England's houses are a treasure trove of riches and a unique, living record of the nation's history. Simon Jenkins' magnificent guide selects the finest palaces, mansions, halls, castles and cottages throughout the land, from the stately to the humble, in a glorious celebration of English life.