We are buying books again.
Please ring first if you have more than 3 boxes to bring in.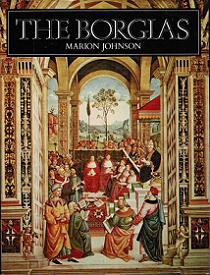 The name of Borgia is synonymous with the political corruption, greed, incest and murder rife in Renaissance Italy. Rodrigo Borgia, Pope Alexander VI, the first man clearly to have bought himself the papacy, and two of his infamous illegitimate children, Cesare and Lucrezia, were the three central figures of the Borgia dynasty, seizing power, wealth, land and titles through bribery, marriage, and murder. Cesare, with his political astuteness and ruthlessness, became the model for Machiavelli's The Prince, while Lucrezia, rumoured to have been a poisoner and the lover of her father and brother, may have been as much their victim as their accomplice. Marion Johnson plots the dynasty's dramatic rise from their beginnings in Spain to their occupation of the highest position in Renaissance society, at a time when Italy was at the centre of the European stage, both culturally and politically. Finally, she examines how far the myth of the Borgias is borne out by the historical facts. Behind the gaudy horrors, she concludes, lie people of great talent and achievement, possessors, even, of moderate virtues...