We are now accepting books on exchange and credits to shop cards.
We are not buying stock for cash yet. We are operating under Level 2 restrictions.
Please note that we will require you
* to wear a mask at all times whilst instore
* sign in and sanitise your hands at entry
* maintain a 2m distance between you and other browsing customers
We are here to help you if you need assistance and are happy to organise a delivery for those who are still staying safe at home. Web orders will be processed and delivered via courier and NZ Post.
Store pick ups can be ordered online or organised by phone and email. We will send you an email when your pick up is ready to be collected.
To keep up with all the Arty Bees news, why not subscribe to our newsletter at the bottom of the page.
Our next book club meeting is on Monday 13 December at 6pm.  Check out Facebook or email us to find out more.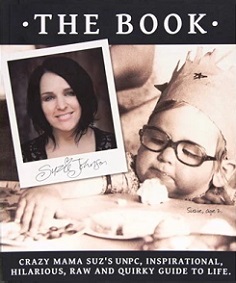 Suz is UNPC (politically incorrect). She has issues with skivvies, David Bain jerseys, camel toe and wild bikini lines. She loves drama and glitter, and is a closet 56 chev finned car loving BOGAN.
The mum of five kids first, wife second, nurse third and business women fourth, Suzie Johnson is also an entrepreneur. She has transformed Shannon (Shan Francisco), small town New Zealand, into a thriving boutique shopping destination during an economic recession. She is also an artist, jewellery maker, designer, wholesaler, public speaker, stand up comic - and now author!
A wanabe tv star, radio chatterbox and self proclaimed bossy britches, Suzie Johnson is earthy, funny, and raw. She keeps it real and tells it how it is in this hilarious anecdotal guide to life.