Thanks to everyone who saw our note that we are buying again.
The response has been huge.
So huge that we need to slow down in order to get all the books
we have bought over the last 2 weeks on the shelf for you to buy.

We are still buying but selectively.
So, please call if you have more than 3 boxes.
Some sections are overflowing, particularly children's, detective and cooking.

On a similar note if you are looking for
Children's books, detective novels or cook books, we have heaps of new stock.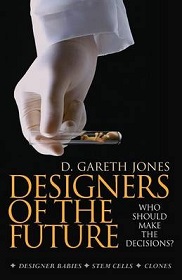 Title:
Designers of the Future - Who Should Make the Decisions - Designer Babies, Stem Cells, Clones
What insights does Christianity offer? Christians believe we are stewards of God's creation. We therefore should win control of diseases. We should tackle Alzheimer's, Parkinson's, and spinal cord injuries. But the ethical choices are tough. In this coherent, engaging book Professor Gareth Jones tackles who designs designer babies, what is special about the human embryo, what are the limits of stem cell research, and should we not merely repair, but enhance?...