UPDATE - Selling books to Arty Bees.
We are buying books again, we are being selective.
Please call if you have more than 3 boxes.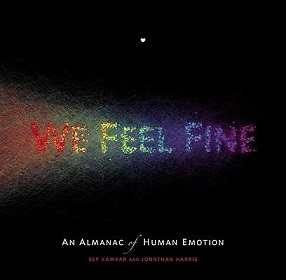 In this dazzling exploration of contemporary human feelings, digital whiz kids Sep Kamvar and Jonathan Harris use their computer programs to peer into the inner lives of millions, constructing a vast and deep portrait of our collective emotional landscape. Armed with custom software that scours the English-speaking world's new Internet blog posts every minute, hunting down the phrases "I feel" and "I am feeling," the authors have collected over 12 million feelings since 2005, amassing an ever-growing database of human emotion that adds more than 10,000 new feelings a day. Drawing from this massive real-world stockpile of found sentiment, "We Feel Fine: An Almanac of Human Emotion" presents the best of the best -- the euphoria, the despair, the passion, the dreams, and the desires that make us human.